Photographing through 2017
A year (and a bit) ago I picked up my first real camera: a Fuji XT10 and started taking photographs — since then I've shot more than 30,000 photos, mainly inspired by New York and have been working towards getting better photographs.
Year-ends, particularly blisteringly cold ones, are a fine time to review and try to understand what precisely I've been doing. Frantically walking around cities across the world — particularly New York — trying to make good photographs while dealing with life doesn't really lend itself to significant introspection.
Contact Sheets
I indulged in Chicken Scheme wrapped around ImageMagick to generate PDFs with small thumbnails of all photographs I've taken over the past year: they're surprisingly satisfying, both as an automatic diary and a way to observe general patterns in my approach to photography.
I realize that I tend to underexpose a lot, relying a bit too much on the brightness of underlying LCD screens; I must focus on pushing the histograms to the right and not relying on tweaking photographs in Lightroom till they show some detail.
The other obvious flaw is significantly over-shooting: I take multiple exposures of the same shot, slightly moving my perspective till I get it just right. This generally makes editing extremely painful and doesn't really add much benefit. Waiting to align perfectly before pressing the shutter instead of going click-click-click is something I need to train myself to do.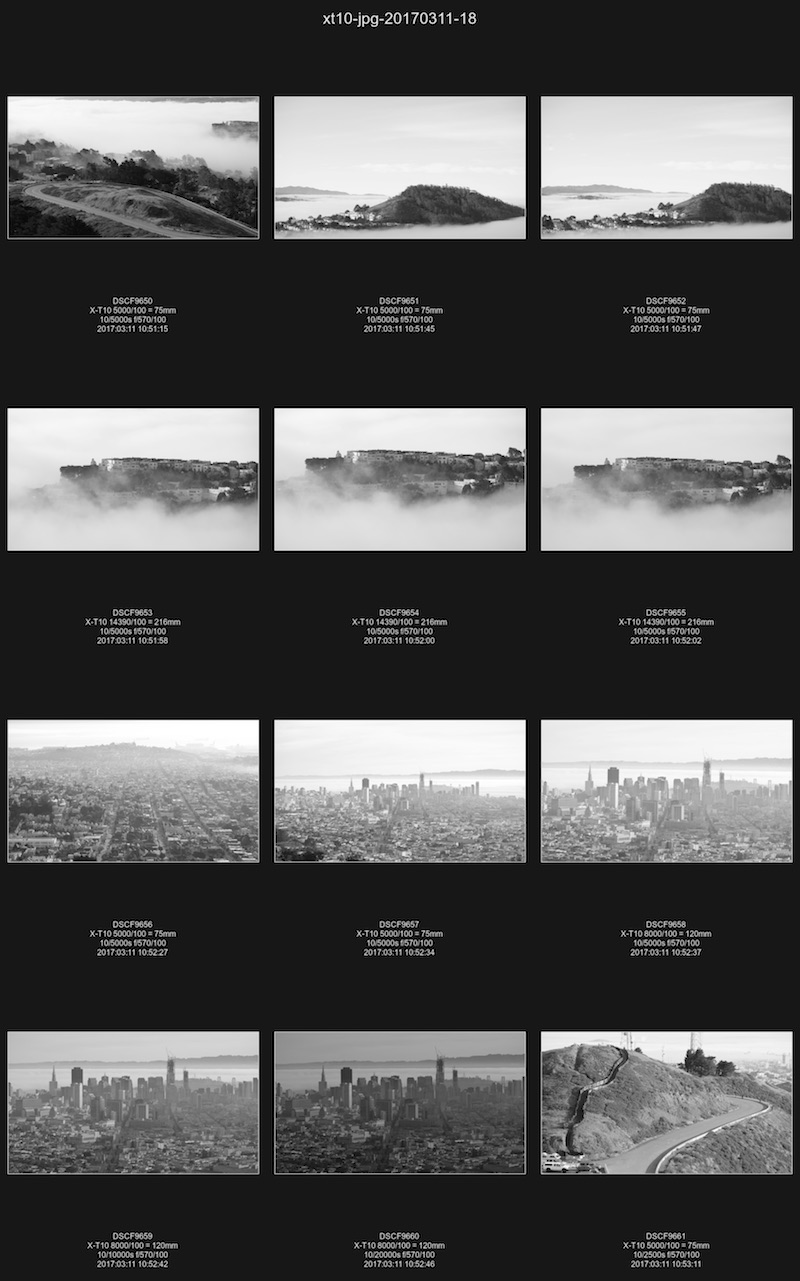 Figure 1: A contact sheet from Twin Peaks, San Francisco.
Books
My approach to far too many projects is to constantly keep reading everything I can lay my hands on. I've bought, borrowed, browsed several books and wandered into several photo exhibitions.
As satisfying as looking at lovely collections of photographs is, I find books that provide context about the photograph much more interesting and valuable.
Some of the books I really enjoyed —
The Photographer's Eye, John Szarkowski
Perhaps my favourite of all books this year: it talks through the limitations of classic photography and has a lovely collection of pictures dating back to the 19th century.
I bought my copy at the Strand, from their rare books section (without also going bankrupt — it was very reasonably priced) and it appears to be from the original printing and the paper and photograph prints are delightful.
Magnum Contact Sheets
An extraordinarily fascinating — and large — book. Seeing the pictures reknowned magnum photographers took before and after their best shots and the context in which they took them.
The Nature of Photographs, Stephen Shore
A modern photographer's eye — with more depth, and far more contemporary photographs.
Kertesz on Kertesz: A self Portrait, Andre Kertesz
I really really enjoyed looking at pictures by Kertesz, particularly because he frequenly photographed Washington Square Park which I personally gravitate to a lot.
Ansel Adams: An Autobiography
It's fairly fascinating to read through the life of a renowned photographer — particularly one trying to get photography accepted as an art form.
I also found out that some of Ansel Adams' work is in the public domain: particularly The Tetons and the Snake River.
Classes, workshops, meetups, etc.
I also attended an ICP class, several instagram meetups and a few photo critiques and workshops at Adorama. All were valuable in their own ways —
ICP
I took Harvey Stein's class on photographing New York: this was the first time I'd officially learned anything about photography, and came away with some experience walking up to strangers and asking if I could take a portrait. I haven't applied this skill anywhere near as much as I would have liked to.
Adorama
I attended a few photo critiques at Adorama as well as a workshop on shaping light but Seth Miranda: they post these on Meetup and are easily worth the time.
Fujifilm Instagram Meetups & others
Fujifilm posts about events on their blog: I attended two of these meetups, received useful tips from Ruddy Roy and Kara Mercer and got the chance to try out the X-T20 and X-T2 (they give out cameras to test) and met several interesting people.
Instagram
Of course, as a budding photographer I constantly posted to instagram. I started by incessantly posting to my personal account, @kunalb_ —
— but then decided to give my friends who'd been following me since before I picked up a camera a break, and started posting to @kny_2017 instead.
For 2018, I'll be posting to @knl.2018, at a more relaxed schedule of once a week. Every week, I'll choose my strongest — or a series of my strongest — photographs from the past month to post. I'm hoping this helps with my editing skills and lets me build a stronger set of work.
Tiny Data
The other bit of programming I indulged in was to record all the exif data from the photographs into sqlite ­ and make a few plots to get a sense of the photographs.
Consistency
To start with, I was most curious about just how many photos I had been taking through the year: it's interesting to see the flurry of activity every month.
November seems a bit off, but then again I accidentally deleted a day's shoot — before copying the photos to my hard disk, losing around 200 photos, so I'm not that surprised. This was particularly embarassing because I'd also promised some of those photos to a stranger I'd met at Washington Square Park.
Figure 2: Photos every month
Focal Lengths
Of all my lenses I've really enjoyed shooting with my 23mm and 35mm primes ­ and I was curious which one I'd shot more with and the 35mm was the clear winner.
Note that this is a cropped sensor camera; the 35mm film equivalent focal lengths are 35mm and 53mm respectively ­ classic street lenses. I bought the 23mm lens a few months after the 35mm lens, so the results here are probably biased.
Figure 3: Focal Lengths
Apertures
Unsurprisingly, I most often shot at f/2.0, with quite a few shots at f/16.0 and f/22.0 ­ the extreme ends supported by my lenses. I was somewhat suprised to find a high ~f/7.0 value.
Figure 4: Aperture
Shutter speeds
Nothing much to see here; I tend to stick to 1/60s or so, except when using the telephoto lens; there are a few long exposures in there around times involving fireworks, rooftops, or in some cases standing in the freezing cold taking a picture of the brooklyn bridge because I was young and enthusiastic and had a shiny new tripod.
Note that -x actually implies a speed of 1/x: I parsed the exif values into negative integers to make them easier to handle.
Figure 5: Shutter Speeds
Further Exploration
Having all this data at my finger tips means I can also plot more interesting charts for sanity checks and observations:
It's pretty cool to observe patterns like the white spot on the bottom-right while considering f number vs ISO: maxed out ISO and f numbers to capture low light.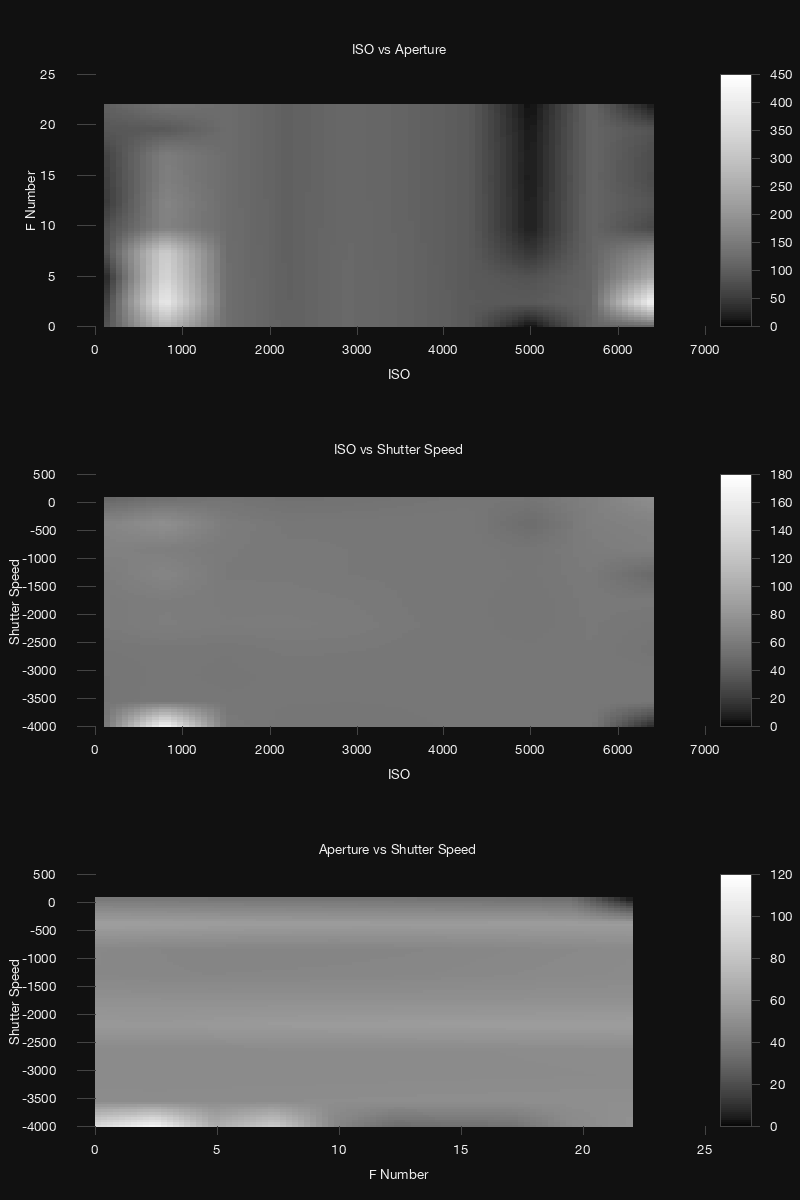 Figure 6: Exploration
And just for the heck of it…
Figure 7: 3 dimensional plot
Tech Stack
This post — as all the others — was generated with emacs org-mode, with graphs generated using GnuPlot. For contact sheets, I wrapped chicken scheme around shell commands to Montage which let me fully parallelize the work without having to deal with multithreading.
What it's been like
Taking several thousand photographs and posting several hundred over the past year has been an interesting experience: I have far stronger memories and at the same time I feel surprised that certain events were so long ago.
With my photographs I also have many more reasons to explore and to look around and engage with the world; and there are now several spots around New York I identify with just because I've photographed them and claimed them.
That said, constantly trying to observe pictures can get extremely exhausting, and I still haven't quitem managed to figure out why I take photographs. It is satisfying to be able to capture a moment, and to be able to share it with those close to me.
I hope you have a great 2018!